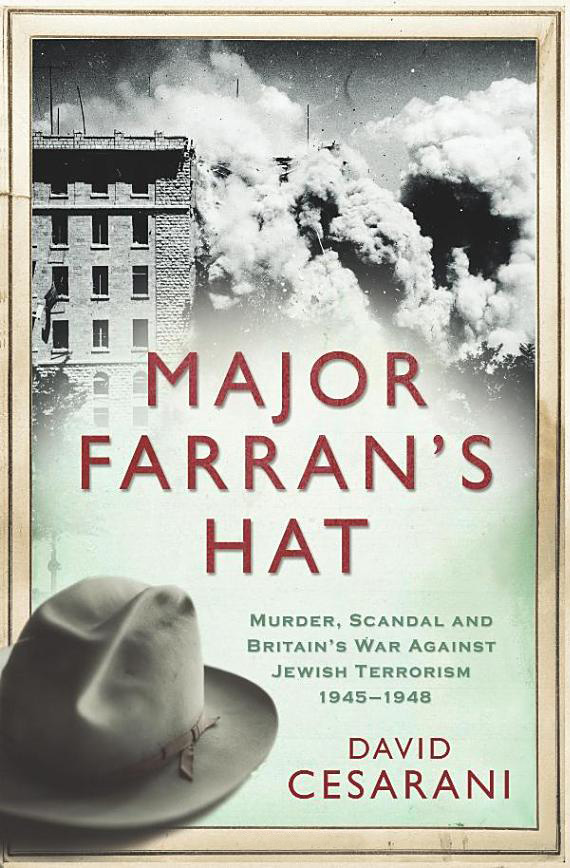 In May 1947 Alexander Rubowitz, a Jewish teenager, was mysteriously abducted in Jerusalem. He was never seen again. Rubowitz was active in a Zionist underground group fighting British rule in Palestine. Witnesses said he was seized by British policemen. A grey felt hat found at the scene was traced to Major Roy Farran, a highly decorated ex-SAS officer leading a covert counter-terrorist squad. As evidence of murder grew Farran fled to Syria. He was persuaded to return and was acquitted after a sensational court martial. He came home to a hero's welcome. But the Zionist underground swore vengeance. It had already penetrated British homeland security and now it sent its top man after Farran.
Major Farran's Hat explores the reasons why Britain lost Palestine, why its counter-insurgency strategy collided with its diplomacy, and why the tactics of the security forces were ill-judged, poorly executed, and futile. Setting Farran's remarkable story in the context of the first modern campaign of international terrorism, David Cesarani draws on recently declassified files of the Security Services to reveal the full extent and ambition of Jewish terrorist attacks on Britain in the late 1940s. Part Boys' Own adventure, part narrative history, Major Farran's Hat solves a murder mystery and exposes a shady episode in the final years of the British empire. This story of violence, cover ups and expediency throws light on Britain's legacy in the Middle East, with remarkable echoes of today's War on Terror.
Towton Productions are extremely pleased to have the option on the Major Farrans Hat with a view to producing a major drama documentary that will do credit to this quite remarkable book from David Cesarani.
About David Cesarani
David Cesarani was born in London, England on November 13, 1956. He received a bachelor's degree in history from Cambridge University, a master's degree in Jewish history from Columbia University, and a doctorate in history from Oxford University. He was a scholar of contemporary Jewish history. He taught at the University of Leeds, Queen Mary University of London, the University of Southampton, and Royal Holloway, a constituent college of the University of London. He wrote several books including The Jewish Chronicle and Anglo-Jewry, 1841-1991; The Holocaust; Justice Delayed: How Britain Became a Refuge for Nazi War Criminals; Arthur Koestler: The Homeless Mind; Major Farran's Hat: Murder, Scandal and Britain's War Against Jewish Terrorism, 1945-1948; and Final Solution: The Fate of the Jews, 1933-49. Eichmann: His Life and Crimes was published as Becoming Eichmann: Rethinking the Life, Crimes, and Trial of a 'Desk Murderer' in the United States and received a National Jewish Book Award in 2006. He was named to the Order of the British Empire in 2005 for his work in helping Britain establish Holocaust Memorial Day.
David sadly passed away in Oct 2015 at the age of 58.